Our Wells Fargo Museum
We BUY, CONSIGN, & SELL
"Western" and Wells Fargo & Co's Express items. If you would like to start collecting authentic Wells Fargo items, read the following excerpts below from the book, Company Property to help you get started:
Advertisements:


Advertising, in its many forms, played a major role in the express business from the earliest days. Signs, calling cards, and newspaper advertisements are given considerable attention by authors Beebe and Loomis (see Bibliography). The natural expansion of business depended upon the company's reputation, of course, but first it was necessary to publicize whatever services were being offered.



Agency Appointments:


Trustworthy people were always in demand for appointments as agents. Prominent and successful storekeepers, attorneys, and other community leaders frequently were asked to represent the interests of the company in their own town, or to travel to a remote mining camp and open a new Office. The appointment certificate, displayed publicly, was recognition of the company's trust in the individual. To be appointed an agent frequently ensured the person a continuous place of prominence in the community.
Badges (Cap):


Engraved, German-silver cap badges began appearing in the 1880's. Agents, Drivers, Messengers, Porters, and Transfer clerks were the employees that came into contact with the public, and therefore had the need to be identified. Each employee was issued a badge by number. Therefore the lower the number, the earlier the date of issue. In 1888, three company departments were established, so a letter prefix was added to the number: "P" for Pacific, "C" for Central, and "A" for Atlantic Departments.

Bags: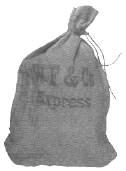 Several kinds of bags were used, mostly for coins, and for messengers to use when dealing with local merchants. Most of them were made of very heavy canvas, and some were reinforced with leather. Besides coin bags, there were bullion bags, Grip bags, Kit bags, Nose bags and Parcel bags.
Books: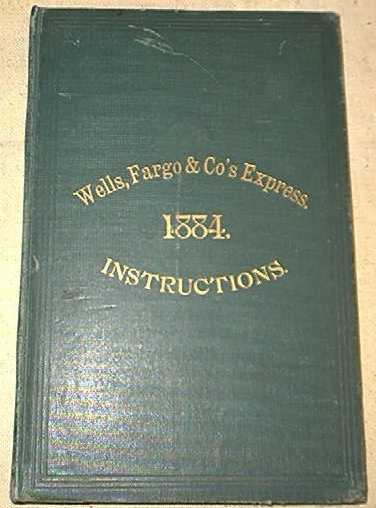 Many "Books" that were used by the company were merely sheets of blank business forms, bound together and store someplace in the office. These Forms are presented later in a separate section. A Directory, a List, and a Tariff were Office reference books. Other books and booklets included Instruction Books and Tourist Guide Books.
Boxes: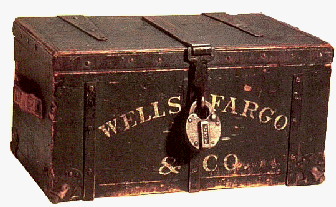 Pine wood with oak rims, reinforced with steel straps, seems to be the preferred material for the many different kinds of company boxes. The oak and straps were used to prolong the life of the box, to protect the box from wear and tear, and to deter robbery and pilferage. However, any wooden box could be opened easily with a good axe, or a blast from a shot gun. All of the company treasure boxes were made to strict specifications. Any so-called "Wells Fargo strong box" that departs from this appearance is probably a fake.
Call Cards:

Frequently called "cardboard signs," these were used by regular customers, rather than by the express office. When there was a package to be expressed, the customer would simply hang the call card outside, or in his shop window, to signal the express driver to stop. Express company drivers and messengers, on regular "freight runs," would see the call card, "call" upon the customer, and pick up the package.
Directories:


Directories were tables of destinations and other information needed by the agent to properly route all express business. Earlier directories were simply alphabetical listings, but later editions began to use destination codes. Express company destination codes, refined later by the American Railway Express Co. and the Railway Express Agency, were the forerunners of the modern Zip Codes and airport codes on airline baggage tags.
Firearms:


Agents issued one or more firearms to messengers and guards at the start of their "run:" A revolver with belt and holster, a shot gun and a rifle. Messengers and guards were responsible to check them to be clean and operational, and to load them with the ammunition provided by the agent.
Forms:


The company used business forms numbered in the hundreds, far too many to be documented here. There was probably one printed form for every conceivable event in the course of running the business. Sometimes the form numbers conflicted, and eventually, renumbering caused even further conflicts.
Franks:


In the latter half of the 19th century, a service that was pre-paid, or performed free-of-charge by a company was known as a "frank." Most of the stage and packet lines, railroads, telegraph, and express companies in that period issued one or more types of franks, usually free of charge, to business associates and favored customers, in return for similar favors.
Horses: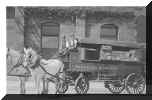 Since horses were the method of transportation that the company used to transact business, a variety of property items was purchased by each office to meet the needs of the animals. Nose bags, bits, horse blankets, bobs, breast plates, bridle, mane brush, hitch weight, storm cover and wagons are just a partial list of these items.
Keys: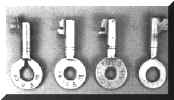 "Losing a key, or forwarding a treasure box unlocked, will not be excused." Instruction #18 from the 1884 Book of Instructions is evidence of the value placed on keys within the company. Examples included; Erie Keys, O.J. Keys, Padlock Keys and W F Co Ex Brass Keys.
Lamps & Lanterns:


A lamp was purchased in 1894 for $0.20, and classified as office property. A desk lamp was purchased in 1899 for an unspecified amount. Kerosene lanterns were purchased from many of the railroad supply houses and manufacturers. "Wire Cage" lanterns used one or two heavy horizontal wire rings to protect the globe, with an additional wire ring forming the top of the cage, and still another forming the bottom.
Lists:


Lists were initially "broadsides" that were framed and posted in the express office. There were 78 offices on the 1857 List of Office & Agents, and the company boasted of 320 employees. At some point, probably in the 1870's, the list was published in book form. Agents' names were omitted after 1911.
Locks: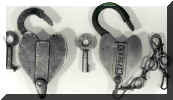 Locks of various types were used to lock office doors, treasure boxes, kit trunks, express cars, day wagon cages, and office cages. Ayers, Climax, and Romer are the common manufacturers. They were assembled by the manufacturers from either malleable iron or brass parts.
Photos & Posters:


Photography was still in its infancy in the early years of the company. However, the expressmen, their offices, and the stage coaches and wagons upon which they rode, captured the attention of enough photographers to record for us a few moments in the life of the agents and messengers. As Early as 1852, the company had posters printed to advertise services, to call attention to robberies, to remind the employees of their duties, and to inform the public of services, rates, and rewards being offered.
Seals & Sealers: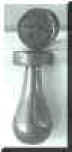 For centuries, seals have been used to ensure that the contents of an envelope or package would reach its addressee, uncompromised and unaltered by the carrier. A seal, therefore, should be a device that is unique, is affixed by the sender, is easily recognized by the addressee, and is difficult, if not impossible, to duplicate. Unfortunately, the seals themselves are easily duplicated in today's machine shops, resulting in making virtually all of today's so-called "Wells Fargo wax sealers" suspect.
Signs: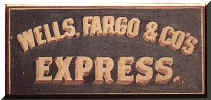 After the stagecoach, treasure box, and the shotgun, the sign is probably the most enduring symbol of the presence and influence of the company in the American West. The sight of a wood sign being nailed to the front of an office, announced that a remote mining camp had attained some status, that its people were finally in communication with the rest of the world, and that it could anticipate more than just an ephemeral gold-strike volume of business in its future.
Trucks & Wagons: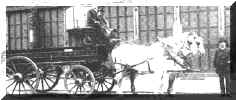 Two-wheeled Hand Trucks were used for moving heavy trunks and crates. Types of wagons include single wagons, day wagons, double wagons, cage wagons, and mud wagons.
Home | Relics For Sale | Wells Fargo Books | Services | Museum | Poet's Corner | Other Resources

®
Email: gojimbartz@hotmail.com
Phone: (760) 728-3805
© Copyright 2012 The Westbound Stage® - All rights reserved.